What is facility management software?
Enterprise facility management software helps companies save time and money by organizing work assignments, building repairs, equipment, and maintenance-related tasks. And with ManagerPlus Lightning, facilities managers can schedule recurring maintenance cycles, keep tabs on backlogged items, track work orders, plus gain insights that will help boost efficiency and reduce costs in the future.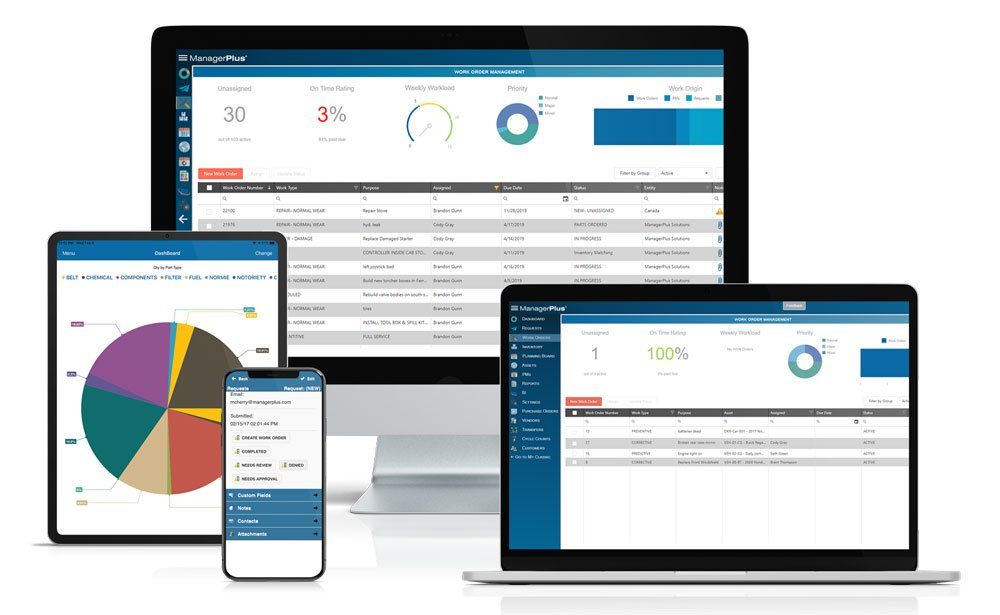 As a facilities manager, staying on top of your day-to-day assignments can be daunting. From replacing office equipment to scheduling facility cleanings and coordinating maintenance work, your to-do list is never-ending. Our facility maintenance software makes performing these tasks easier.


How facility management software works
Facility management solutions organize all your maintenance tasks into one place, giving you full visibility into parts and inventory, work requests, real-time status updates, team assignments, and scheduling.
With ManagerPlus Lightning software, you accomplish more:
Customize the information submitted on work request forms
When a request comes in, quickly assign the work order to a technician
Jump into the drag-and-drop planning board to see who's doing what and where
Determine if maintenance needs to happen at routine intervals, then automate notifications to alert technicians when work comes due
Dive into the analytics dashboard to build custom reports and gain performance insights

Visibility into parts and inventory
Track facility assets across multiple sites
Increase PM completion rate
Reduce operational costs

Stay compliant—avoid fines and other penalties